Here is a list of top 5 Bollywood actors with the most expensive bikes ranging from Salman Khan's Yamaha R1 to Akshay Kumar's V-Max and more
This short video clip shows the top 5 Bollywood actors who own the most expensive bikes. We all know the craze that big celebrities have for expensive and luxurious automobiles. It's just exciting to see the high-end and exorbitant products that celebrities have.
You might also like: 5 celebrities who own Rs 2.34 Cr Mercedes Maybach GLS600 – Ranveer Singh to Kriti Sanon
You might also like: Complete SUV Collection of KN Nehru, Politician Owner of India's 1st Land Cruiser LC300
Top 5 Bollywood Actors With The Most Expensive Bikes
Vidyut Jammwal –Triumph Rocket 3
The popular action hero and an ardent martial artist is known for his love for two-wheelers. He owns a Triumph Rocket 3 which starts at Rs 20 lakh, ex-showroom in India. The bike comes with the biggest motorcycle engine in the world. It has a 2.5 liter engine that produces a gigantic 165hp and 221Nm of peak power and torque. The bike is made largely of aluminum.
You might also like: 10 famous TV stars and their cars – Krushna to Urfi Javed
Salman Khan – Yamaha R1
The action icon is often seen on his bike, but he owns a Yamaha R1 which costs over Rs 20 lakh. It comes with a 1.0 liter 4 cylinder engine that produces 200hp and 112Nm of peak power and torque. It is one of the most iconic bikes for riding enthusiasts.
You might also like: Sunny Leone Replaces Old BMW 7 Series With New 740Li – Full Car Collection
Akshay Kumar
Bollywood's Khiladi is one of the highest earning movie stars in the world. No wonder he owns an expensive bike. According to this video clip, he owns a Yamaha Vmax with a 1679cc 4-cylinder engine. The bike develops 195hp and 167Nm of peak power and torque. It costs around Rs 27 lakh.
You might also like: Common Celebrity Cars – Kunal Khemu's Thar to Hema Malini's Hector
John Abraham
Everyone knows that John Abraham has around 17 bikes in his impressive collection. His most prized possession is perhaps the Ducati Panigale V4 which costs over Rs 25 lakh. It comes with a 1.1 liter 4-cylinder engine that produces a colossal 215hp and 123Nm of peak power and torque.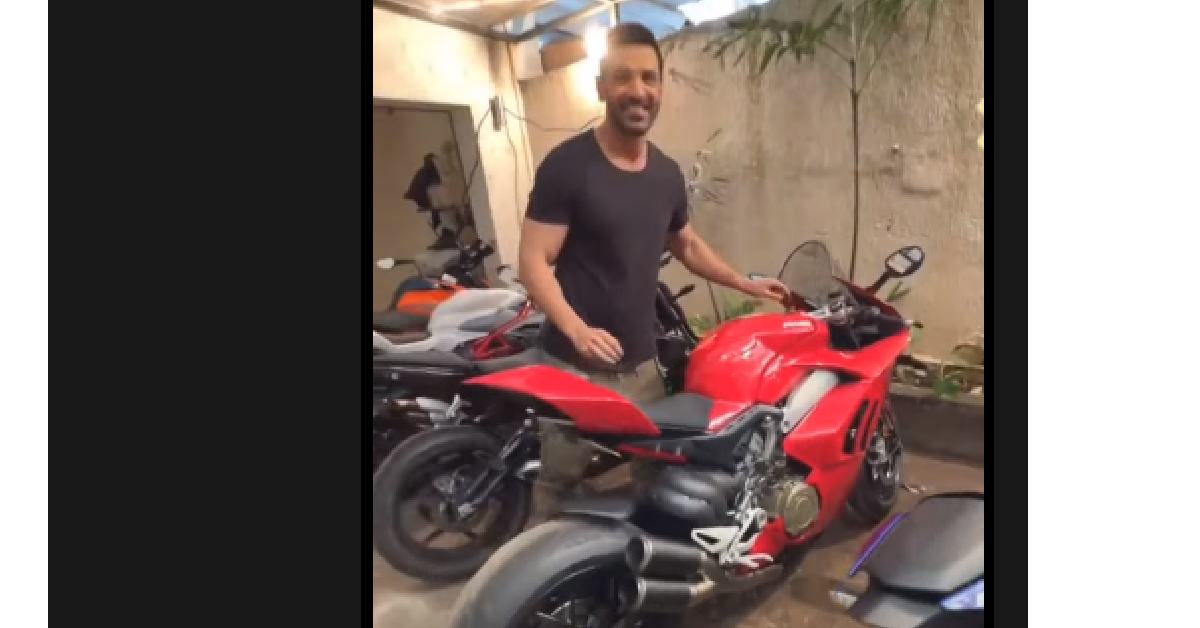 You might also like: New Indian Celebrity Cars – Audi Q7 from Shanaya to Maybach from Shahid
R Madhavan
Rocketry star R Madhavan owns arguably the most desirable touring bike in the world, the Indian Roadmaster. The price of this monster bike is around Rs 45 lakh. It comes with a 1.9 liter engine that develops 171 Nm of peak torque.
Disclaimer- Embedded videos/external content is/are used for convenience and informational purposes only; they do not constitute an endorsement or endorsement by Car Blog India of any of the company's or organization's or individual's products, services and/or opinions. Car Blog India assumes no responsibility for the accuracy, legality and/or content of the external site or for that of subsequent external videos/content. Contact the external publisher for answers to questions about its content.
Join our official telegram channel for the latest free updates and follow us on Google News here.